There are several reasons why retrofitting your asphalt plant can be considered the best investment for your business.Check out the case of the company Ferreira Guedes and build a new path for your asphalt plant too!
Retrofitting an asphalt plant is not just about modifying its components. First of all, through the retrofit process, it is possible to increase productivity and reduce costs with precise, efficient and modern controls.
In addition, it guarantees an asphalt mix production with excellent quality in the most varied work ranges, complying with current standards.
The evaluation of the investment between the acquisition of a new equipment or renovation should be done with great responsibility by a specialized team. In this way, you avoid crucial onerosities for your business results.
Once updated, the equipment has its maintenance cost minimized, especially when it comes to discontinued or obsolete replacement components, significantly reducing machine downtime.
With the retrofit, you guarantee your equipment:
Better use of the investment, with excellent return and cost-benefit;
Immediate economic returns through modernization;
Surprisingly high productivity;
Extended service life.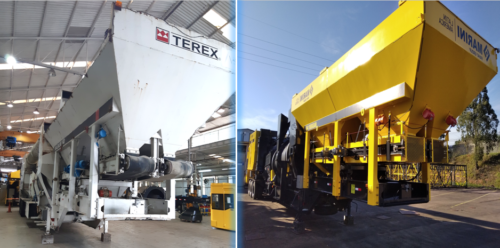 The MAGNUM 140 model was acquired in 2005 by Ferreira Guedes, when a division of Terex was still being manufactured and, in 2013, it was acquired by the FAYAT Group.
After a little over 15 years, the company opted to carry out an evaluation of the equipment and, after a technical review process, the retrofit was the final decision for a new start in asphalt production.
Among the updates made were the inclusion of the NR12 system KIT, replacement of the exhaust fan, renewal of the automation, and new design, consolidating a new path for asphalt production.
Click and watch the complete transformation!
➡️ Do you want to know how to build a new path in your asphalt production? Get in touch!